Controlled by what Teknion calls "smart operation," the Contessa is a task chair designed to compete on the same level as (and possibly surpass) all competitors.  Oh, and it's 95% recyclable, too.
FEATURES/OPTIONS:
– Seat height and recline controlled by levers on the armrests
– Seat tilt angle can be locked into any position
– 2.8:1 tilt ratio
– Lumbar support is height and depth adjustable
– Tilt tension knob has 4 presets
– Seat depth adjustment
– Available in mesh back, with mesh, cloth, or leather seat
– Arms are adjustable in height and pivot (20 degrees inward, 10 degrees out)
– Headrest option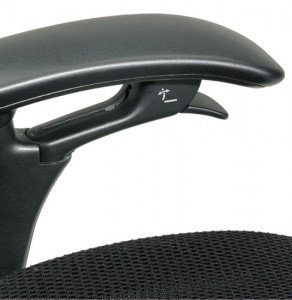 REVIEW:
The Contessa chair with the cloth seat is the most comfortable seat I have ever sat in.  Ever.  The mesh seat was marginal at best; I didn't really like it.  It's a supportive mesh but it wasn't anything special. The cloth seat, however, was perfect.  It was soft, yet firm.  Supportive and comfortable.  Out of all the chairs on this website, the cloth Contessa has the most comfortable seat.
The tilt mechanism on this chair is also incredibly comfortable, likely because of its 2.8:1 ratio (compared to most other knee tilt chairs which have a 2:1 ratio).  It allows the back to stretch and relax in a way that other chairs don't, and using the tilt control lever on the left armrest was also fun.  Click it to enter free tilt mode and recline to wherever you want.  Click it again and the chair will lock in that position.  Click it again to enter free tilt mode when you want to change the recline angle.
The lumbar support was a bit firmer than some, but not intrusively so.  When I first sat down it was very noticeable; I actually thought for a moment it might be too much, but after 15 minutes or so I realized it was just right.
The arms are not as adjustable as in some other chairs, but this is understandable, since some of the control mechanisms (tilt, height) are wired through the arms.  The arms go up and down with a ratchet system that allows you to lift them to whatever height you want and, if you want to lower them, you lift them all the way up and then they drop down to the bottom and you begin again.  They swivel in and outward which is pretty standard for this class of chair.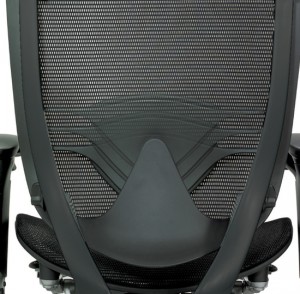 The tilt tension control is clever.  It's a knob with 4 presets, from 1 (easy) to 4 (hard).  I've found that setting 2 or 3 works well for most people.  It's nice to be able to adjust the tilt tension from minimum to maximum in less than 360 degrees rotation.  Compare this against other chairs where you have to turn the knob a half dozen times before you can feel a difference.
There were only two things I didn't like about this chair: 1) it's not available without arms (since the controls are wired in), and 2) at some recline positions, the plastic frame behind the mesh seat back at the top of the seat back pressed against my shoulder blades.  It wasn't terribly uncomfortable, but it was noticeable.
PROS:
– Innovative controls in the arm rests allow you to easily adjust chair height and tilt from a comfortable seated position
– Lumbar support is height and depth adjustable
– Seat depth adjustment means people of different heights can use the same chair
– Easy to set tilt tension
– 2.8:1 back tilt ratio is extremely comfortable
– Cloth seat option is the most comfortable seat I've ever sat in
– Back locks at any recline angle
CONS:
– Not available without arms (since the arms have seat controls)
– Arms don't slide in/out or forward/backward (again, probably due to the mechanics of these arms in particular)
– Mesh seat option isn't nearly as comfortable as cloth
VERDICT:
If you want arms, but don't require 4-D arms, this is probably the chair for you