Introduced over 20 years ago by designer Peter Opsvik, the award-winning HÅG Capisco is one of the most unique chairs on the market today.  It promotes movement and limitless seating postures, unlike so many other chairs.
FEATURES/OPTIONS:
– Available with a "saddle seat" (see image at left) or flat seat
– Available with 3 different gas lift to accommodate different height workstations, from standard desks to
– Adjustable seat depth
– Adjustable back height
– Adjustable tilt resistance
– Tilt-lock
– Optional headrest and foot rest
– Available in in dozens of color/fabric options
REVIEW: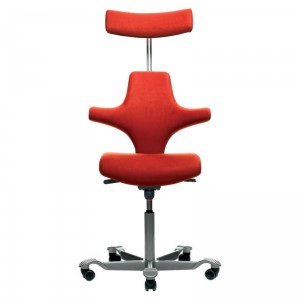 As someone who regularly changes his seating position throughout the day, I was instantly drawn to the HAG Capisco.  I randomly find myself throughout the day with my chair rotated 90 degrees to the side and one of my legs pulled up on the seat horizontally; the Capisco is made for this!
The saddle seat is inspired by the posture of a person on horseback and is designed for a higher workstation where the user is somewhere in between sitting and standing.  This position is actually thought to be better on the body from an ergonomic perspective and is being adopted by many progressive companies who give their employees height-adjustable desks.  A flat seat is available if you prefer a more traditional seat style, yet still has a flexible front edge to support higher workstations.
As I've mentioned in other reviews, many ergonomic chairs are very comfortable, yet they limit the positions in which you can sit.  The Capisco offers more seating positions than any other chair I've ever seen, and it's designed to handle them all.  And it's comfortable.  It's comfortable when used like a normal task chair.  It's comfortable if you turn it sideways and lean into it, and it's comfortable if you turn it around and lean forward.  The T-shaped back supports your arms in all these positions, although it doesn't have traditional armrests so there's nothing to rest your elbows on when you're typing in a "proper" seated position.  For me, this was no big deal as I tend to prefer chairs without armrests anyway.
The seat and back are comfortable and supportive.  In fact, it is one of the most comfortable and unique sitting experiences I've ever had.  Let me be clear: I LOVE this chair.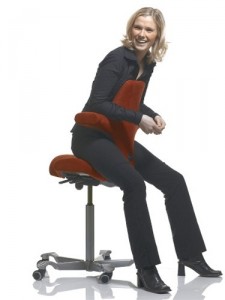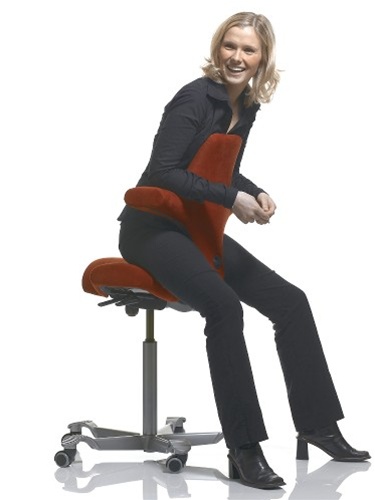 But understand that it is different from most other ergonomic chairs.  There's no 2:1 ratio knee-tilt (the Capisco instead has a standard tilt, see more below).  There's no adjustable lumbar support.  There are no 4-D arms.  But it doesn't need those things.  The Capisco is designed for an entirely different seating experience — one that allows you to move and change positions fluidly and naturally, often without even realizing you're doing it until it suddenly hits you that "hey, I've been sitting sideways for the last 15 minutes and I'm so comfortable I wasn't even aware of it!"
Indeed, the Capisco is the most versatile chair I've ever used.
The only thing I don't like about the Capisco is that it has a standard "middle-tilt" recline mechanism where the chair seat pivots on its midpoint so the front comes up as the back goes down.  The back is attached to the seat so the ratio between the seat and back stays constant even as you recline (1:1 ratio).  On any other chair this would be a big red flag, but because of the way the Capisco is designed to be used, it's not that big of a deal.
PROS:
– Design supports sitting in just about any position comfortably
– Available in taller heights to support high workstations without forcing the user into a full seated position
– Two different seat options: saddle or flat
– Adjustable seat depth and back height allow the chair to fit a variety of users
CONS:
– Non-traditional appearance may turn some people off
– No adjustable lumbar support (although this chair doesn't really need it)
– Uses a standard tilt with 1:1 ratio
VERDICT:
If you naturally sit in many different positions throughout the day, or if you feel "restricted" in traditional chairs, the HAG Capisco is probably a good choice for you.