The Reply is an adjustable chair with many of the features of Steelcase's other chairs at a more friendly price point.  Available with a mesh or fully upholstered back, it seeks to provide affordable comfort that is up to 98% recyclable.
FEATURES/OPTIONS:
– Mesh or upholstered back
– Height-adjustable lumbar available on mesh back version
– Back height adjustable (on upholstered back version)
– Seat depth adjustment
– Arms are height, depth, and pivot adjustable
– Back can be locked in recline position
– Syncro-tilt mechanism
– Tilt tension knob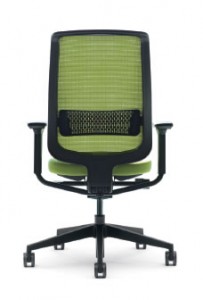 REVIEW:
I've only used the Steelcase Reply with the mesh back so I'm uncertain how the upholstered back version compares.  I think the main difference is that the mesh back version has an optional lumbar support that is height adjustable, while on the upholstered back version the entire back of the chair moves up and down so you can match the curve of the chair back to the curve of your back.
The Reply was a pretty comfortable chair.  The lumbar support was subtle but noticeable.  I recommend adding it as an option to your chair.
The arms aren't as nice as the arms on the Leap and they aren't adjustable laterally (in and out), but can still be adjusted by height, depth, and can pivot in and out.  And like all Steelcase arms, they feel solid and high quality and won't slide out of place if you accidentally bump them.
People who like to work for long periods of time from a reclined position will like that the Reply can be locked into a recline angle.  Recline, press the lever on the left side of the chair, and the chair will lock at that angle until you release the lever.
While the Reply seems a bit like the Think's little brother, the recline mechanism, back design, and arms are the primary differences.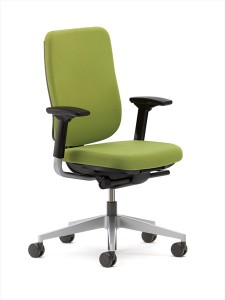 PROS:
– Mesh back keeps you cool
– Chair can be locked at specific recline angles
– More affordable than many other Steelcase chairs
– Lumbar support option
CONS:
– 4-D arms not available
– Armless not available
– No forward tilt
VERDICT:
Not as nice as the Think, but not as expensive, either.  The Reply is a decent entry level ergonomic chair.