The Haworth Very is a very adjustable chair designed by Michael Welsh and Nicolai Czumaj-Bront.  It is also very green, with a Greenguard certification and Greenguard Children and School certified.
FEATURES/OPTIONS:
– Height adjustible
– Asymmetrical lumbar support that is both height and depth (independently left/right) adjustable
– Available 4-D arms (height, pivot, width, depth)
– Seat depth adjustment
– Knee tilt
– Back lock
– Forward tilt
– Available in a variety of colors, fabrics, and finishes
– Mesh back
REVIEW: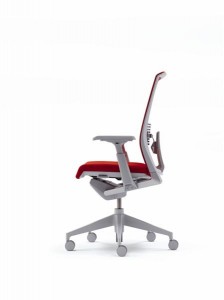 The Haworth Very is like the Zody's little brother.  It has similar options and appearance and functionality.  The Zody is a little bit nicer, but it's also a little bit more expensive.  That being said, I was fond of the Very.
Just like with the Zody, the Very has one of the best adjustable lumbar support systems on the market.  It is height adjustable, and has independent left and right depth adjustments.  It provides subtle support that you can feel but isn't intrusive the way some chairs are.  I cannot stress enough how much I like Haworth's lumbar support system.  It is soft yet firm.  It is super-adjustable.  And it is comfortable.  A+.  And unlike the Zody, the Very doesn't have the uncomfortable pelvic support that was really just a piece of plastic that pokes you in the tailbone.
The Very has a forward tilt option but it is weird because it doesn't lock at all.  When forward tilt mode is engaged, the chair can freely tilt between full forward tilt and fill rear tilt.  I love forward tilt, but I don't understand free floating forward tilt.
Tilt tension is adjusted by turning a crank on the right side.  This can be easily adjusted while seated and is a nice change from the normal knob adjustments that most other chairs use.
The 4-D arms are similar to those of the Zody, and just like the Zody's they move too easily and you will probably accidentally move them out of place if you bump them.  They need to be stiffer.  They don't feel as solid or as well-made as the 4-D arms on the Steelcase Leap.
I liked the mesh back, and the recline was comfortable.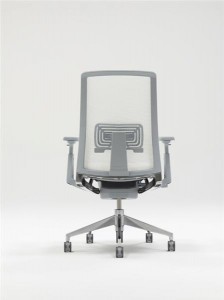 PROS:
– Along with the Zody, it has the best and most adjustable lumbar support on the market
– Seat slider lets you adjust depth so the chair can accommodate different sized users
– Mesh back keeps you cool
– Forward tilt
– Easy to use tilt tension adjustment
– Available without arms
CONS:
– Forward tilt option floats freely between forward tilt and full rear tilt
– 4-D arms move too easily
– A bit of play even when the chair back is locked upright
VERDICT:
If you love the Zody but it's not in your budget, check out the Very.