The Okamura Cruise takes workstation design into a new era.  The angle of the desk is adjustable and curved to fit around you.  The unit can be customized with a host of options, too.
FEATURES/OPTIONS:
– Screening panels can be added for privacy
– Side tables provide a flat surface to store supplies and drinks
– Mobile drawer option gives you a place to keep your stuff
REVIEW:
It kind of has a futuristic feel to it, much like I imagine the control center on a space ship would.  Let me put it another way: this desk is awesome.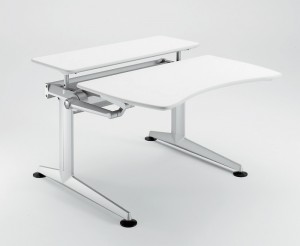 It has a sloped desk surface like the Herman Miller Envelop to give you an optimal ergonomic working angle, but it also has (optional) side tables so you have a horizontal surface to put books, notebooks, and cups of coffee on.
This desk is designed to be used with an Okamura Atlas chair which is a low-seat chair, however any (ergonomic, reclining) chair should work as long is it can get low enough.
Ok, so this setup is kind of designed to be used in an office setting, but I see no problem whatsoever with having one in a home office.  You obviously wouldn't need the screening panels, but the rest of the system which is designed for superior ergonomic performance would be just as effective at home as at the workplace, especially if you spend hours at your desk using the computer each day.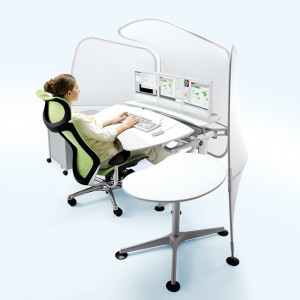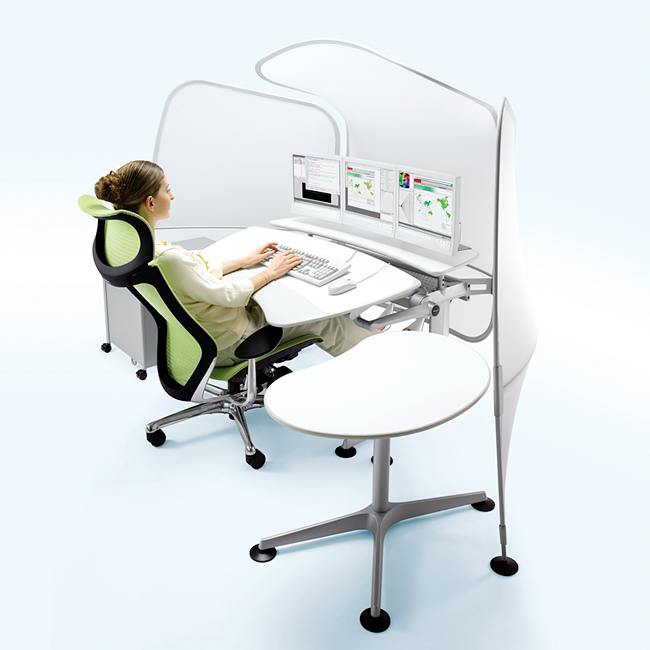 PROS:
– Angle-adjustable desk surface with available flat surface tables and storage units lets you work ergonomically while still having somewhere to put your coffee
– Privacy screening panels can be added for the office
– Allows you to work at a level of ergonomic comfort never before available (with the possible exception of the Herman Miller Envelop)
CONS:
– Ideally requires a specific chair, but in any case requires an ergonomic chair that reclines and can get low enough to fit under the desk
– Use limited to a computer workstation
VERDICT:
If you want the ultimate in ergonomic workspaces and your chair goes low enough, this is the definitive choice.