The Microsoft Comfort Curve Keyboard 2000 takes advantage of a slight curve in key layout to present an ergonomically advantageous hand and arm position to reduce the chance of fatigue and injury.
FEATURES/OPTIONS:
– "Spill resistant" – won't get damaged by an occasional spill
– Low profile keys resemble laptop keys
– "Hot keys" near the top give you access to internet shortcuts and computer volume controls
– Curved design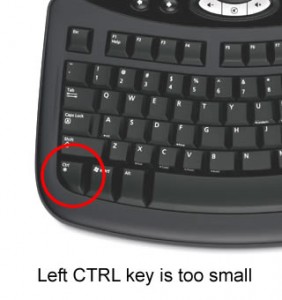 REVIEW:
The first thing I noticed about this keyboard (after its shape, of course) was that it has the traditional set of Insert/Home/Page Up, Delete/End/Page Down keys.  Compare this against the style that some newer keyboards have where the delete key on the left is twice as tall and the insert key has been removed.  I know some people prefer that, but I don't, so props to this keyboard for doing it the "correct" way.
All the other keys are in their correct locations, too.  Sometimes ergo keyboards get creative and relocate keys, but this keyboard is basically just a standard keyboard that has been curved a bit.
Every time you change keyboards it takes a bit of time to get used to the new keyboard.  On this particular model, the left CTRL key is rounded and is shorter than it should be.  The round edge fits the contour of the keyboard, but there's really no reason for it to be rounded like that, and in fact it may even cause you to "miss" the key when you go to hit it with your left pinky.  You may think this criticism is nit picky until you start missing the key.
The proportions of some of the keys in the middle (T, G, H, B, N) are also larger than the rest of the keys and may cause a few mistakes while you're adapting to this keyboard.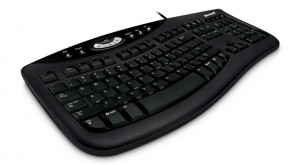 PROS:
– Traditional Insert/Home/Page Up, Delete/End/Page down layout
– Spill resistant
– Comfortable curve although it takes some time to get used to if you're used to a standard keyboard
CONS:
– Left CTRL key is too small
– Keyboard is larger than many other models; make sure you have room on your desk or keyboard tray!
– Spacebar is loud
VERDICT:
– A decent curved ergonomic keyboard.