The Leap is Steelcase's flagship task chair; the result of extensive research on how people sit.  It features their "Liveback" technology that allows the back of the chair to change shape to provide support. A one year study with more than 200 people showed an increase in productivity of 17.4% just from using the Leap. And this chair not only supports you no matter how you sit, but is also 94% recyclable.
FEATURES/OPTIONS:
Nearly everything is adjustable on the Leap, including:
– Lumbar support that is height adjustable with little levers on the sides of the back of the chair and also features adjustable firmness with a knob behind you on the right side
– Seat depth is adjustable; the seat slides forward or backward a few inches so you can get exactly the correct seat depth
– Arms that go up and down, slide in and out, tilt in and out, and go forward and backward to allow you to get closer to your desk
– The front of the seat is flexible so if you sit forward it won't place too much pressure on the back of your thighs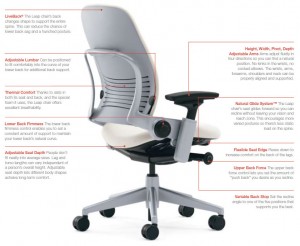 – Tilt tension is adjustable by turning a knob, and from full tightness to full looseness is only a few turns, unlike many other chairs that require dozens of turns
– Variable back stop lets you choose from 5 different ranges of recline motion, from locked upright to full recline.
– Headrest available
The Leap's recline motion allows the back to recline while the seat slides forward.  Unlike with many other chairs, your hips and knees stay at the same level.  This allows you to work (or relax) in a reclined position without your butt dropping too low and messing up your line-of-sight with your monitor.
REVIEW:
I loved the adjustability of this chair, but not only was I able to set it exactly how I wanted it, it was also very, very comfortable.  I love the recline mechanism of this chair.  When you recline in the Leap, only the back reclines; the seat stays level, but it slides forward a little.  The result is a very comfortable recline that is unlike any other chair on the market.  Like most people, I tend to slide downward in my chair over time, scooting my butt toward the front of the seat and leaning back, increasing the angle between my thighs and torso.  The Leap supports this.  Its recline design allows you to comfortably work from a reclined position while keeping your eyes aligned with your monitor, while your butt, knees, and feet all stay at the same level.  To make the reclining posture even better, the arms are attached to the seat of the chair and therefore don't tilt back when you recline because the seat stays flat.  This means you can work from a reclined position and still have horizontal forearm support.  Why other companies don't do this is beyond me!
I also like the lumbar support.  I am a firm believer that if a chair has lumbar support, it must be adjustable not only in height but also in depth.  Two thumbs up here for the Leap.
The fabric is available in tons of different colors, and it's also comfortable.  It's not available in mesh, but it still breathes well.
The Leap's arms are the best arms I ever have seen on a chair, period.  Not only are they "4-D" adjustable (up/down, in/out, pivot, forward/back), but they feel solid and well-made.  They scream "high quality engineering." They take more effort to move than any other adjustable arms I've ever used.  They're not hard to move, but they aren't likely to move if you accidentally bump them.  Other manufacturers often have arms that easily slide if you press on them, which may be a bit of a nuisance.  If you want arms on your task chair, the Leap's are the absolute best you will find.
No matter how I sat in this chair, I couldn't make myself uncomfortable.  Feet up, feet down, half Indian style, forward, backward, whatever.  It is comfortable and supportive.
PROS:
– Best adjustable arms you will find on a task chair
– Arms are attached to the seat of the chair and stay horizontal even as you recline, making working from a reclined position extremely comfortable
– Innovative reclining mechanism lets you truly stretch your back and work from a healthy reclined posture without sinking lower
– Up/down, in/out adjustable lumbar support
– Available without arms
– Available in whatever color fabric you want
– Seat slider means this chair will fit a wide range of heights of people
CONS:
– No forward tilt option
– Not available in all mesh (I don't care, but some people might)
– If you prefer knee tilt mechanisms or 2:1 tilt ratios you might not like this chair so much
VERDICT:
A strong contender for best office chair.  But try it yourself, because some people don't like it.