The Steelcase Think was designed by Glen Oliver Loew and features some innovations that help it stand out including a unique back support, body weight-activated seat, and minimal manual adjustments.  Eco-friendly, it is also up to 98% recyclable at the end of its life.
FEATURES/OPTIONS:
– Back flexors conform to the shape of your back to provide comfort and support
– Available with a height-adjustable lumbar support
– Weight activated tilt mechanism
– 4-D adjustable arms
– Flexible seat front adapts to your body position
– Adjustable seat depth
– Mesh or fabric back in a large variety of colors
– Headrest option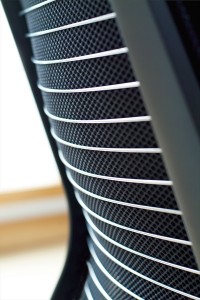 REVIEW:
The Think is a cool-looking chair — something I noticed before I even sat down in it.  Steelcase gets an A for design on this one.  The front edge of the seat is flexible which helps take pressure off the back of the thighs.  A common complaint with many other chairs is that the front of the seat pan cuts of circulation at the bottom of the thighs.  This will be a non-issue with the Think no matter how you sit in the chair.
The tilt lock functions a bit differently than on most other chairs.  It is a dial on the right side of the chair with four settings:  1) weight-activated tilt (full range), 2) weight-activated with 20% boost in resistance, 3) mid-recline stop (only reclines halfway), 4) upright tilt-lock.  So, there's no direct tilt-tension adjustment, but that's because it's kind of built in to the preset settings on the tilt adjustment knob.  Normally I prefer more adjustment than that, but on the Think it doesn't really bother me; the presets are good enough.  Again, kudos to Steelcase.
The recline mechanism itself on the Think is similar to that of the Leap; the seat stays relatively horizontal and only the back reclines.  This allows for an optimal lower back stretch and keeps your feet flat on the floor, and is very comfortable for working in a reclined position for extended periods.
The 4-D arms on the Think are, like those of the Leap, absolutely the best 4-D arms on the market.  When you adjust the depth, lateral, or pivot position, they move solidly and firmly.  If you accidentally bump them they're not going to slide out of place.  I don't like it when 4-D arms slide too easily.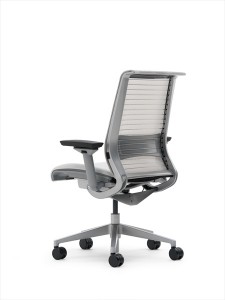 The lumbar support is height adjustable only (no depth adjustment) and is subtle.  If you don't want to use it, it slides all the way down to the bottom.  Even though the back of the Think is pretty supportive, some people may find it just a tad too soft, and the lumbar option is nice when you want a little extra support, and I recommend getting it as an option if you decide to go with this chair.
Finally, the Think feels solid.  It seems sturdy and well-made.  This is always kind of an intangible when it comes to chairs and even the most perfectly adjustable chair won't be a winner if it doesn't feel solid.
Note that the Think is sold by many different retailers, yet some retailers only have the chair available in certain configurations (for example, only with fixed arms (which are always a bad option), and not available armless or with 4-D adjustable arms), and not available with lumbar support, etc.  If you are interested in this chair, make sure you go somewhere where you can get all the options you want.
PROS:
– Recline mechanism
– Comfortable and attractive
– Available without arms
– The combined tilt-lock/tilt-tension settings, while limited, are sufficient
– Available mesh back keeps you cool
CONS:
– No forward tilt (although you likely won't miss it on this chair)
– No independent tilt-limiter or tilt-tension control
– Lumbar support not depth-adjustable
VERDICT:
A lot of people love this chair and with good reason.  It's not the absolute most comfortable nor the most adjustable, but it's a strong performer in all areas and definitely not a bad way to spend 8 hours a day.