The Humanscale Foot Machine is designed to allow gentle movement of the feet while providing support at varying angles and has built in massage balls to massage tired feet.
FEATURES/OPTIONS
– The FM300 has 3 non-skid pads on the surface
– The FM300B has the same 3 non-skid pads, but on the other side has the massage balls pictured above
– Height adjustable
– Angle adjustable
– Footrest stays at whatever angle you set it at and can also be easily rocked back and forth by the feet
– Available in natural or dark cherry wood colors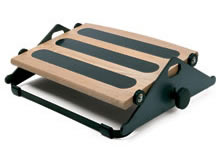 REVIEW:
The FM300B is the best footrest on the market, bar none.  It is solid, it rocks smoothly, you can adjust the height, and you can set it at whatever angle you want and it will stay there.  Oh, and it has wooden balls that massage your feet (it helps if you take your shoes off first)!
There are many other footrests on the market (including some others by Humanscale) which fail at one or more of these categories; some aren't height adjustable, some rock back and forth on their own and don't stay put, some feel too light and not sturdy, etc., but the FM300B is perfect in every way.  It even looks nice, and the metal frame has rubber pads on the bottom to protect your hardwood floors (although it works just fine on carpet, too!).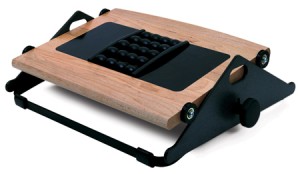 PROS:
– Height adjustable
– Adjustable angle
– Footrest stays at the angle you place it at
– Footrest is easy and fun to rock back and forth with your feet
– Feels heavy duty and solid
– Wooden massage balls on the FM300B, and if you decide you don't want the massage balls you can just flip it over and it's an FM300
CONS:
– If you have very high arches the massage balls may not quite reach all parts of your foot
VERDICT:
This is the only footrest to even consider.  Go buy one now.