The Herman Miller Sayl was designed by Yves Béhar and was inspired by the functionality and style of suspension bridges, something which is readily apparent when you look at the back of the chair.
FEATURES/OPTIONS:
– The open design of the back keeps you cool while evenly distributing your weight
– Back design allows unrestricted shoulder movement
– Forward tilt
– Seat slider
– Tilt lock and tension control
– Available with an upholstered back
– Available with lumbar support option
– Available with fully adjustable arms
– Knee tilt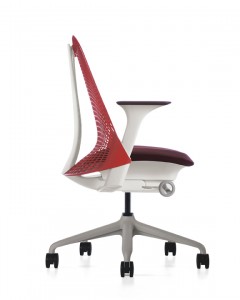 REVIEW:
The first thing I noticed when I sat in the Sayl is that the back was flexible yet supportive.  I immediately liked it.  And because the back becomes more narrow as it goes up, you have a great deal of shoulder freedom (perhaps surpassed only by the Keilhauer Junior, although the Junior feels a bit more form-fitting (perhaps restrictive?) in the process).  I was able to reach back, pull my scapula together, and stretch without any interference from the chair.  The Sayl is very supportive of the back as you lean back into it.
The forward tilt option is always a plus in my book and I was pleased to see that Herman Miller included it in this lower price point chair.
The arms on the Sayl did the job but seemed a bit thinner and not as high of quality as what I've seen on some other chairs, but I like that they are fully adjustable 4-D arms (height, depth, pivot, and lateral).
The lumbar support is subtle.  It's height adjustable over 4 inches so you just kinda put it where you want it, but there's no depth adjustment.
The Sayl's recline isn't as comfortable as other chairs that I've used, but most other chairs are also more expensive.  I'm not saying the Sayl is a bad chair, but sit in an Aeron, recline and relax, and then sit in a Sayl and you'll see what I mean.  There's something I felt was missing or lacking but I wasn't able to quantify it.  It's not my favorite chair despite the fact that I can't figure out why I'm not crazy about it.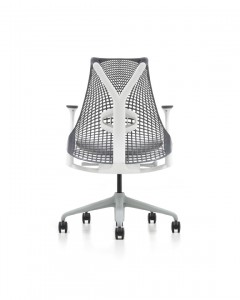 PROS:
– Available armless
– Back is soft yet supportive, and allows for good ventilation
– Forward tilt
– Stylish appearance
CONS:
– Despite being 4-D adjustable, the arms felt lacking
– Lacks a certain je ne sais quoi (in reference to the sitting experience, not its appearance)
VERDICT:

A Herman Miller chair at a more affordable price point than some of their other models that allows for freedom of shoulder movement.