Designed to support the feet and legs while working, the Humanscale FM500 features curved "feet" to allow for an easy rocking motion which will help promote circulation.
FEATURES/OPTIONS:
– Available in natural wood or black
– Aluminum legs with rubber coating to keep the footrest in place and protect hardwood floors
REVIEW:
The Humanscale FM500 is an alright footrest in the sense that it's better than nothing.  You can't adjust the height, and despite having rubber skids on the bottom, it still had a tendency to slide across the floor when I was using it.  It is also very easy to rock back and forth.  Whereas the FM300B requires a little effort, the FM500 requires basically none.  It's too light and feels too "loose". I don't really like this footrest.  It pales in comparison to the FM300B in every way, yet somehow costs more.  Make no mistake: even though this one has a higher product number (500 vs 300), it's not a better model.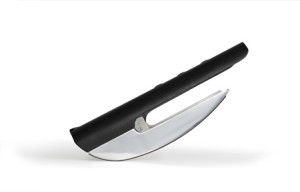 PROS:
– It's all one piece so I guess it's easier to move than the FM300B which is two pieces
– It looks nice
CONS:
– Not height adjustable
– Slides across the floor
– No massage balls
– Too light
VERDICT:
Get the FM300B instead.  There's no reason to choose the FM500, and it blows my mind that some places even charge a bit more for it than for the 300.  I mean, try them both out, and then you'll agree with me.