The Freedom was designed by Niels Diffrient and provides, as its name suggests, freedom from complicated controls, levers and dials.  In fact, the only adjustments on the chair are seat height, seat depth, back height, arm rest height, and headrest height.
FEATURES/OPTIONS:
– Available with optional headrest
– Headrest angle moves to keep your head facing forward even when you recline
– No complicated dials or levers to mess with
– Proprietary technology allows the chair to automatically give you the the proper amount of recline resistance without requiring manual adjustments as with other chairs
– Available in a wide variety of colors/fabrics
– Seat depth adjustment
– Back and headrest height adjustment
REVIEW: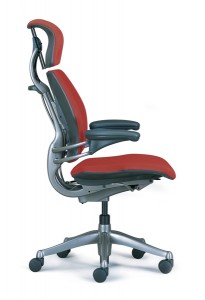 The Humanscale Freedom chair is definitely carving its own path in the world of ergonomic task chairs and while I respect its ingenuity and concept, I wasn't a fan of the chair. I just couldn't get comfortable in it.  The recline felt awkward and I had to constantly reposition myself after leaning back.  It didn't feel like a smooth motion, either; it seemed as if my body and the chair were misaligned, like the chair wasn't moving with my body, but instead was moving independently of my body.  My butt slid forward and I felt like I was being pushed out of the chair.  The seat stays horizontal when you lean back (a fantastic concept if executed correctly which allows for optimal lumbar stretching), but it just didn't work right in the Freedom.  I felt like I was forcing myself to recline, and once I was reclined I was uncomfortable and wanted to sit back up.
I also didn't like that there's no tilt lock; sometimes I just want to lean back while the back stays upright — a static stretch, if you will.  That's a no-go in the Freedom.  I understand wanting to make a chair that is less complex (fewer levers and user controls), but no tilt lock?  Seriously?  A $1,000 chair doesn't have a tilt lock?
I have heard more than one person say that if you don't like to work in a reclined position that this is not the chair for you.  I agree.
The arms were alright.  First the good things: I like the fact that they can be lowered all the way to the bottom to get them out of the way if you don't need them.  I like that there is a pivot option available.  I also liked that there was no vertical arm support, so you can pull a leg up and sit half-Indian style if you want without your knee hitting the arm (although I didn't want to because I thought the chair was uncomfortable in general). Now the bad things: I thought the adjustment felt weird.  To adjust the arms, you grab the pads and raise and lower them which unlocks the locking mechanism, and they move up or down together.  It felt weird to me; I didn't like adjusting them. It felt clunky and awkward.  When I put a little weight on the arms they felt like they may give under the pressure, break the locking mechanism, and slide down to the bottom (that never actually happened, but it felt like it was going to).
The seat padding was too hard.  Don't get me wrong, I prefer a firm seat, but this was hard without being comfortably supportive.  It was just hard.  I tested a leather chair; maybe the fabric ones are better.  Ignoring the fact that the back and the recline were uncomfortable, I don't think I could sit in this chair for more than an hour a day based on the seat alone.
While I didn't like this Humanscale chair, I have to mention that I love some of their other products, especially their FM300B Foot Machine adjustable footrest, which is the absolute best footrest on the market.
I do know a few people who love this chair.  In fact, I think this chair in particular is going to have the largest individual factor of all the chairs on the market.  Most people are at least OK with Aerons.  Most people are at least OK with Leaps.  But with the Freedom, I think people are either going to love it or hate it with very little in between.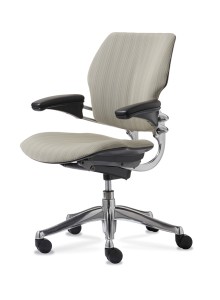 PROS:
– Adjustable seat depth
– Adjustable arm height
– Available with pivot arms
– Back height adjustment
– Very few user adjustments (if simplicity is your thing)
– Headrest moves dynamically to support your head while reclining (as opposed to some other chairs which leave you looking up at the ceiling when you recline)
– Seat stays horizontal as you recline to allow the back to stretch
CONS:
– No tilt lock
– No tilt tension control
– No forward tilt option
– Seems designed for people who only work in a reclined position
– Cantilevered arms always feel like they're on the verge of breaking if you put any weight on them at all
– Arms are awkward to adjust
– Arms don't go in/out or forward/backward
– Arms cannot be independently height adjusted
– Very few user adjustments (if total adjustability is your thing)
– Uncomfortable seat
– Awkward recline motion
VERDICT:
People tend to either love or hate this chair.   If you don't like working from a reclined posture you should pass on this chair.  And if you do, this is definitely one that you need to test out yourself before you buy it.  Let me say it once again: please test out this chair before you buy it!