Designed by the Austrian design team EOOS, the Keilhauer Sguig is designed to be ergonomic while still providing freedom of shoulder movement and also employs "Pelvic Balance Point" technology to provide optimal support for both men and women.
FEATURES/OPTIONS:
– Arms are adjustable in height, depth, width and pivot
– Arm caps rotate 180 degrees toward the back to get them out of the way if you need to get up close to your desk
– Tilt lock/tension
– Seat depth adjustment
– Back height adjustable
– Back design allows shoulder movement while supporting the spine
– Knee tilt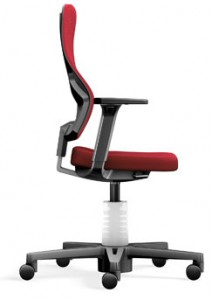 REVIEW:
I like the Sguig.  The back took a little getting used to at first since it has a different design than most chairs, but I soon found that it was form fitting and comfortable.  The back is actually similar in concept to the Keilhauer Junior in that it provides full spinal support while still leaving the shoulders free, but the difference is that the Sguig's back is actually a full back with a slightly recessed shoulder area (see photo).
The back is height adjustable in 11 steps over a 2″ range of motion so you can fit the curve of the chair back into the curve of your own back and while it doesn't have separate lumbar support the way some chairs do, the adjustable back was still a nice feature.  The seat was also comfortable and supportive and allowed me to sit however I want.
Keilhauer has done a lot of research into studying how men and women sit differently from each other.  Their conclusion was basically that men tend to lean back (putting pressure on the back of the ischial tuberosities) whereas women tend to sit more upright, rolled forward on those bones.  The Sguig, like the Morley, features "Pelvic Balance Point" technology which allows the seat and back to be adjusted to support you no matter how you sit.  As a male I can't speak for women, but I tend to vary my sitting posture pretty often throughout the day, and regardless of if I was leaning back or sitting up I was pretty comfortable in this chair.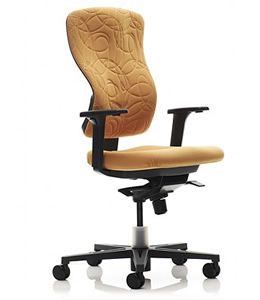 PROS:
– Back provides shoulder freedom
– Arms pivot 180 degrees backward to pivot out of the way
– Comfortable tilt mechanism
CONS:
– Seat back may feel strange at first as it is probably different from any other chair you've ever sat in
– No forward tilt option
– Not available armless
– No separate lumbar adjustment
VERDICT:
If you're looking for full back support that doesn't restrict shoulder movement, the Sguig should definitely be on your list of chairs to try.