The Zody is a brilliant task chair by Haworth.  Designed to be both ergonomically comfortable and sustainable, the Zody is not only the first chair ever to be certified Cradle to Cradle Gold by MBDC, but this highly adjustable chair is also the first to be endorsed by the American Physical Therapy Association for science-based comfort and ergonomics.
FEATURES/OPTIONS:
– Tilt mechanism has a 6 position tilt lock in 4 degree increments, knee-tilt design
– 4-D arms go up/down, forward/backward, rotate inward/outward, and slide in/out
– Lumbar support is height adjustable as well as left/right independent depth adjustable
– Pelvic support below the lumbar support helps support the sacral pelvic area
– Seat slider option to adjust seat depth
– Forward tilt (5 degrees forward) option
– Back available in mesh, fabric, or leather
– Lots of colors options to choose from
REVIEW:
The Haworth Zody is a very nice looking chair so I was excited to try it out.  The chair I used had a mesh back which was comfortable and breathed well.  Once I got it adjusted to my size (height, seat depth, etc.), it was quite comfortable.
The Zody's lumbar adjustment is one of the best on the market.  Not only is it height adjustable so you can put it in the sweet spot of your back, but you can adjust the depth of the left and right sides independently by rotating a paddle on either side!  This is a brilliant design and allows for a complete customization of lumbar support.  The support is subtle but noticeable; unlike some chairs where the lumbar adjustment goes from "not enough" to "too much," the Zody goes from "just a bit" to "a comfortable amount."  The very center of the lumbar support is curved away slightly to keep pressure off the spine.  Superb design, perhaps the best in the industry.  Other chair manufacturers should take notes!
The 4-D arms are nice and adjustable, but I didn't think they felt as "solid" as the 4-D arms on the Steelcase Leap.  The Zody's arms moved much easier and seemed to lock into preset notches, as opposed to the Leap's which stay wherever you put them.
The pelvic support (NOT the lumbar support) poked me in the the butt bone and I thought it was uncomfortable.  I believe it is an option, however.  Absolutely get the lumbar support; it is fantasic.  But the pelvic support is a non-adjustable piece of semi-flexible plastic and I think the chair would be 10x more comfortable without it.  This could just be a personal preference, however.
I love forward tilt options and think all chairs should have it.  The Zody has forward tilt, but it doesn't lock into forward tilt; you can only restrict the range of motion between forward tilt and "neutral" (no tilt), so if you have forward tilt mode engaged, there is going to be 5 degrees of play between forward tilt and level.  I thought this was strange, but I'm sure Haworth had a reason for doing it this way.  Even more strange is on their Very chair, if you engage forward tilt mode it freely rocks between forward tilt and full recline.  Seems silly to me.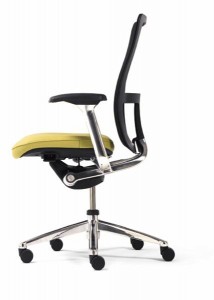 PROS:
– Did I mention how great the lumbar support is?  It's height adjustable and has separate left/right depth controls
– 4-D arms are very adjustable
– Available without arms
– Many color/fabric options
CONS:
– The arms slide and move easily and may not stay in place if you bump them
– The pelvic support may poke you in the tailbone
– Forward tilt option floats freely rather than locking into place
VERDICT:
If you don't care about not being able to lock the chair into forward tilt angle, if you like the arms and the pelvic support doesn't hurt, this is probably the chair for you.  Also consider the Haworth Very chair, which is similar, still has the same great lumbar support without the pelvic support.