So which chairs (or companies) are the best across the different categories?
Or put another way, if you're looking for a chair with specific features, how do you know which ones you should check out?
This is a list of the chairs (or manufacturers) that are top of the line for different features.  If certain features are important to you, I recommend you begin your search with the chair that is the best in that category.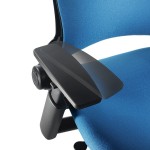 Best 4-D Arm Rests
Without question, the Steelcase Leap is the winner.  Their 4-D armrests are smooth and solid.  Requiring a bit of effort to move, they stay in place where you put them, and a casual bump won't move them out of position.  Furthermore, they are infinitely adjustable as opposed to looking into preset "notches."  They are firm but soft, so your elbows/forearms don't sink into them, but not so hard as to cause pain.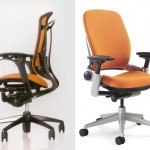 Most Comfortable Recline
This category is a tie between the Steelcase Leap, on which the seat stays flat while the back reclines, and the Teknion Contessa which has a 2.8:1 knee tilt recline mechanism (compare against the more common 2:1 knee tilt; the Contessa allows you to recline further without the seat lowering as much).  The Contessa has the most comfortable recline, but I like the way the Leap functions enough to place it in a tie for first place.  Either of these chairs will give you an optimal reclined working position and back stretch, and in neither of them does the arm angle get screwed up when you recline.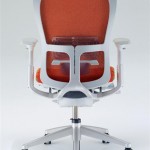 Best Lumbar Support
Haworth.  The Zody and the Very both have the best lumbar support on the market which is both height adjustable and left/right independent depth adjustable.  It's subtle yet supportive.  If you want a "stronger" lumbar support, look to the Teknion Contessa: the runner up in this category.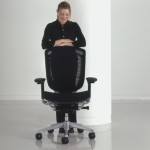 Most Comfortable Seat
The Teknion Contessa with a cloth/fabric seat (not the mesh seat, which has quite a different feel to it and wasn't noteworthy).  I don't know how they did it, but it is the most comfortable seat I've ever sat on.  It is firm yet soft, and provides support without pressure points or discomfort.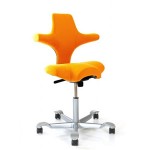 Variety in Seating Positions
HAG Capisco.  While it's clsoer to a typical task chair than most of the other chairs featured on this site, the Capisco is so versatile that it allows you almost infinite freedom in seating positions.  Humans are meant to move, not be locked into one position (even if it's a very comfortable position).  Its lack of arms is a positive, not a negative.  Armless chairs are better in many applications, anyway.  The Capisco allows you to sit in pretty much any position you want, while remaining comfortable and dynamic throughout.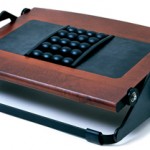 Best Footrest
Humanscale FM300B.  It's not even a contest.  With the FM300B being close enough in price to all the other models, there is no reason to even consider one of the other ones.  The FM300B has all the features of the other footrests, plus more (massage balls, anyone?), and is more sturdy and solid.  Humanscale knocked it out of the park with this one.